The bar-format bricks
The  bar-format brick is an extruded form of perforated ceramic with and without perforation – a quality product that far exceeds the minimum requirements defined in DIN 20000-401 and EN 771-1 respectively.
As well as the numerous variants of color and surface finish of current manufactured products, it is above all the interplay of gaps between horizontal and butt joints that provides a broad range of design latitude. Variations with protruding and recessed layers help to give the brickwork something of a living quality. It does this by creating a type of slat or board structure with a fascinating interplay of light and shade.
Here you can see an overview of the standard formats in bar-format. Depending on the building requirements, we are of course able to offer other dimensions for all types of product. For this, simply pick up the phone or use our contact form to get in touch with us.
Show more
Scroll right for more information >
Limitless color variety
bar format bricks
We can produce all ceramic products in your desired color and format. Here you will find bar-format bricks in a large number of color variants.
For facades, we only manufacture on a project-specific basis, and we consult with you about your desired color until we have achieved a perfect match with your wishes. Let yourself be inspired by our color overview and discover a selection of colors produced previously. Simply order a sample of your favorites or download our textures for renderings.
+ Color overview for facades
+ Color development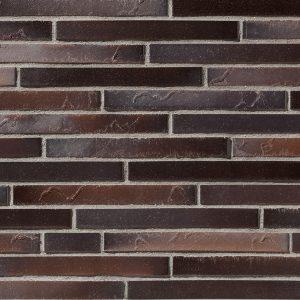 Beeindruckende
Referenzen
Sächsisches Landesarchiv, Dresden | Schweger Assozierte Gesamtplanung GmbH, Berlin
Bricks & facade | Bar-format bricks | 490 x 115 x 40 mm
© Prof. Jörg Schöner
+ Reference overview
Beeindruckende
Referenzen
Niehoff Hauptverwaltung, Schwabach | Team Reindl & Partner mbB, Nuremberg
Bricks & facade | Bar-format bricks | 450 x 115 x 40 mm
© Oliver Heinl
+ Reference overview
Beeindruckende
Referenzen
Residental building, Hamburg Othmarschen | LA'KET ARCHITEKTEN GMBH, Hamburg
Bricks & facade | Bar-format bricks | 390 x 90 x 40 mm
© Meike Hansen, Archimage
+ Reference overview
Get a picture of our products on the completed building
and discover impressive references with brick facades.
Technical Data
Minimum requirements according to DIN EN 771-1 and DIN 20000-401
GIMA results ​​for extruded goods
VMZ/VHlz
KMZ/KHlz
Compression strength
≥ 4
≥ 28
28 - 60
Bulk density
-
> 1900 kg/m3
2000 - 2200 kg/m3
Water suction
-
max. 6%
2-6% depending on color
Frost resistance
required
required
prooved
Content of active soluble salts
S2
S2
S3 ( less active soluble salts than in S2)
Bulk density class
≥ 0,8
≥ 0,8
1,6-2,4
You will find more information in our download area.
If you have any questions, please do not hesitate to contact us at any time.