The NF bricks
Bricks in what is known as Normal Format (NF) always have dimensions of 240 x 115 x 71 mm, or in Thin Format (DF) 240 x 115 x 52 mm. As a standard-compliant brick construction material in acc. with DIN EN 771-1 respectively, the values of which GIMA bricks invariably outperforms, all of our ceramic products are totally frost-resistant and free of harmful or bloom-capable substances.
We produce full bricks (KMz) with a brick density of at least 1.8 kg/dm³ and a perforation of less than or equal to 15% as well as perforated bricks (KHLz) with a perforation greater than or equal to 15% with a brick density of 1.6 or 1.8 kg/dm³ .
Here you can see an overview of commonly used formats for NF & DF bricks, and the corresponding weight and approximate quantity required per square metre.
NF & DF Bricks
Format in mm
Approx. demand per m²
Weight in
kg/piece
240/115/52
66
2,5
240/115/71
50
3,65
240/115/113
33
5,5
240/175/113
33
8,5
Scroll right for more information >
Depending on the building requirements we produce every special shape precisely in accordance with the wishes of the planner. Discover our product overview for the facade with many other possible applications for classic bricks.
Limitless color variety
NF & DF bricks
We can produce all ceramic products in your desired color and format. Here you can see a small selection of NF bricks in their various color variants.
For facades, we only manufacture on a project-specific basis, and we consult with you about your desired color until we have achieved a perfect match with your wishes. Let yourself be inspired by our color overview and discover a selection of colors produced previously. Simply order a sample of your favorites or download our textures for renderings.
+ Color overview for facades
+ Color laboratory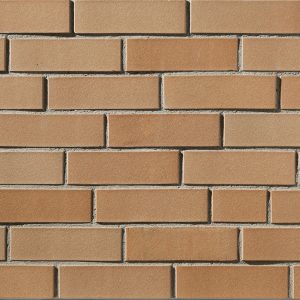 Sporthalle mit Kulturforum, Hamburg-Bergedorf | BKS Architekten GmbH, Hamburg
Bricks & facade | NF & DF bricks | 240 x 115 x 52 mm
© Ralf Buscher I www.ralfbuscher.de
+ Reference overview
Kirchenzentrum, Riem | Florian Nagler, Munich
Bricks & facade | NF & DF bricks | 240 x 115 x 52 mm
© Stefan Müller-Naumann
+ Reference overview
Get a picture of our products on the completed building
and discover impressive references with brick facades.
Technical Data
Minimum requirements according to DIN EN 771-1 and DIN 20000-401
GIMA results ​​for extruded goods
VMZ/VHlz
KMZ/KHlz
Compression strength
≥ 4
≥ 28
28 - 60
Bulk density
-
> 1900 kg/m3
2000 - 2200 kg/m3
Water suction
-
max. 6%
2-6% depending on color
Frost resistance
required
required
prooved
Content of active soluble salts
S2
S2
S3 ( less active soluble salts than in S2)
Bulk density class
≥ 0,8
≥ 0,8
1,6-2,4
You will find more information in our download area.
If you have any questions, please do not hesitate to contact us at any time.