The prefabricated brick elements
Prefabricated elements of exposed brickwork are steel-reinforced concrete elements manufactured in our plant, with exposed surfaces clad with specialist forms of shaped ceramic to enable them to be combined on the construction site with the brickwork surfaces of the facade. The so-called swallowtail ensures the optimal connection between the brick molded parts and the concrete core.
These prefabricated elements in the exposed brickwork are available in all of the colors, formats and surface finishes of the GIMA product range. The joints here are inset by between 15 and 20 millimetres so pointing can be performed on-site using the same mortar as the one chosen for the other facade surfaces. The outcome is a homogeneous overall impression.
Unique
swallowtail interlinking
GIMA prefabricated elements are only produced with swallowtail interlinking at the back. This very strong form of interlinking guarantees a totally secure grip between concrete core and ceramic shell. This assures an optimum mechanical bond between ceramic and concrete, preventing structural damage.
The configuration of constructions elements is performed in acc. with DIN 1045, based on structural type or individual structural calculation. Our designs reinforce non-load-bearing elements sufficiently. We recommend incorporating prefabricated elements for exposed brickwork at the planning and tender specification stage, and in the facade planning process.
PREFABRICATED BRICK ELEMENTS
Detailed drawings
In our product folder for prefabricated elements, you will find a large number of drawings showing examples of how to combine prefabricated components for window and door lintels, window sills, eaves and fascias, attic finishers, masonry covers, staircase steps, wall elements and retaining wall elements. Individual solutions, cut precisely to suit your building structure, are our standard fare as well as a challenge, and you are welcome to put our expertise to the test.
Limitless color variety
PREFABRICATED BRICK ELEMENTS
We can produce all ceramic products in your desired color and format. We always manufacture prefabricated elements together with classic bricks for one building. This ensures that the colors match up properly.
For facades, we only manufacture on a project-specific basis, and we consult with you about your desired color until we have achieved a perfect match with your wishes. Let yourself be inspired by our color overview and discover a selection of colors produced previously.
+ Color overview for facades
+ Color development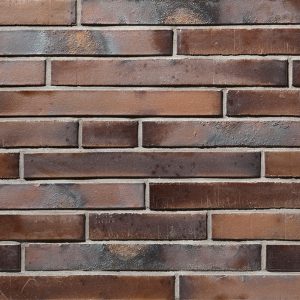 NeuHouse, Berlin | Gewers & Pudewill GmbH, Berlin
Bricks & facade | Bar-format bricks | 490 x 115 x 52 mm
© Koy+Winkel
+ Reference overview
Unternehmenszentrale, Hamburg | Gewers & Pudewill GmbH, Berlin
Bricks & facade | Bar-format bricks | 490 x 115 x 40 mm
© Anke Müllerklein
+ Reference overview
Hotel Werk 17, Munich | Hild und K Architekten, Munich
Bricks & facade | Prefabricated brick elements | 490 x 200 x 35 mm
© Alexander Bernhard
+ Reference overview
Get a picture of our products on the completed building
and discover impressive references with brick facades.
Technical Data
Minimum requirements according to DIN EN 771-1 and DIN 20000-401
GIMA results ​​for extruded goods
VMZ/VHlz
KMZ/KHlz
Compression strength
≥ 4
≥ 28
28 - 60
Bulk density
-
> 1900 kg/m3
2000 - 2200 kg/m3
Water suction
-
max. 6%
2-6% depending on color
Frost resistance
required
required
prooved
Content of active soluble salts
S2
S2
S3 ( less active soluble salts than in S2)
Bulk density class
≥ 0,8
≥ 0,8
1,6-2,4
Scroll right for more information >
You will find more information in our download area.
If you have any questions, please do not hesitate to contact us at any time.