The special-format bricks
To an increasing extent, as well as the classic brick formats, we also produce ultimately bespoke special formats, in terms of dimension as well as geometry. Shaped and corner bricks are always produced at GIMA in one piece, and are never glued together. The special formats are manufactured in close collaboration with the planner. During development work, special elements are designed in accordance with the wishes of the architect and these are assigned the same importance as simple and reliable installation.
Here you can see an overview of the standard formats in special format.  All shaped bricks can be produced in standard heights of 52/71/113 mm and as special formats. Depending on the building requirements, other dimensions are of course available for all types of product. For this, simply pick up the phone or use our contact form to get in touch with us.
Special-format bricks
Format in mm
Approx. demand
per m²
Weight in
kg/piece
240/175/71
50
5,3
240/240/71
50
7,2
250/120/65
50
3,65
290/140/65
44
4,8
290/140/71
42
5,2
290/140/71
40
5,6
320/140/71
38
6,2
340/165/65
38
6,8
340/165/71
36
7,5
Scroll right for more information >
Special shapes
Detailed drawings
Since we always produce on a bespoke and order-specific basis, you have total freedom in design terms. All shapes and colors can be produced to order. In our product folder you will find examples of technical drawings showing a vast array of special shapes such as partition wall bricks, corner masonry blocks, lintel bricks, attic cladding bricks, window sill cladding bricks, masonry cladding bricks, cornice bricks or small strips with special shapes. Let yourself be inspired for your next project.
Limitless color variety
Special-format bricks
Here you can see a small selection of special shapes in their various color variants. We can of course produce all ceramic products in precisely your desired color and format.
For facades, we only manufacture on a project-specific basis, and we consult with you about your desired color until we have achieved a perfect match with your wishes. Let yourself be inspired by our color overview and discover a selection of colors produced previously. Simply order a sample of your favorites or download our textures for renderings.
+ Color overview for facades
+ Color development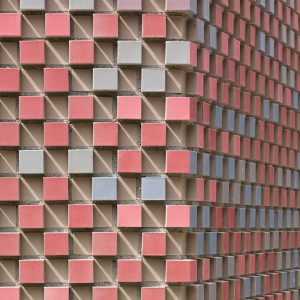 Höckerstein, colorful glazed
Passo FK - broken, 2-gap, glazed
The Tate Modern Project, London | Herzog & de Meuron, Basel
Bricks & facade | Special-format bricks | 215 x 215 x 69 mm plus 130 Special formats
© Anke Müllerklein
+ Reference overview
Vitra Schaudepot, Weil am Rhein | Herzog & de Meuron, Basel
Bricks & facade | Pavers | 280 x 62 x 120 mm Facade, 130 x 120 x 62 mm Pavers
© Romy Picht
+ Reference overview
Get a picture of our products on the completed building
and discover impressive references with brick facades.
Technical Data
Minimum requirements according to DIN EN 771-1 and DIN 20000-401
GIMA results ​​for extruded goods
VMZ/VHlz
KMZ/KHlz
Compression strength
≥ 4
≥ 28
28 - 60
Bulk density
-
> 1900 kg/m3
2000 - 2200 kg/m3
Water suction
-
max. 6%
2-6% depending on color
Frost resistance
required
required
prooved
Content of active soluble salts
S2
S2
S3 ( less active soluble salts than in S2)
Bulk density class
≥ 0,8
≥ 0,8
1,6-2,4
You will find more information in our download area.
If you have any questions, please do not hesitate to contact us at any time.